Ubud is the busy city center on the island and is regarded as the cultural capital of Bali. It is also known for lavish spa treatments and affordable and luxury price ranges. If you want to feel like royalty at a price that won't break the bank, Ubud is one of the best places in Bali to experience this.
Why you should get a massage in Ubud?
Exploring Ubud can be tiring; from swimming in waterfalls, hiking trails, and walking around the market and museums, treating yourself to a massage in Ubud is the best way to relax in Bali and include it on your bucket list.
Before my friend left Bali for the Christmas holiday, I told her we should experience one of my favorite spas in Ubud that offers excellent massage in Bali and the best flower bath with a jungle view.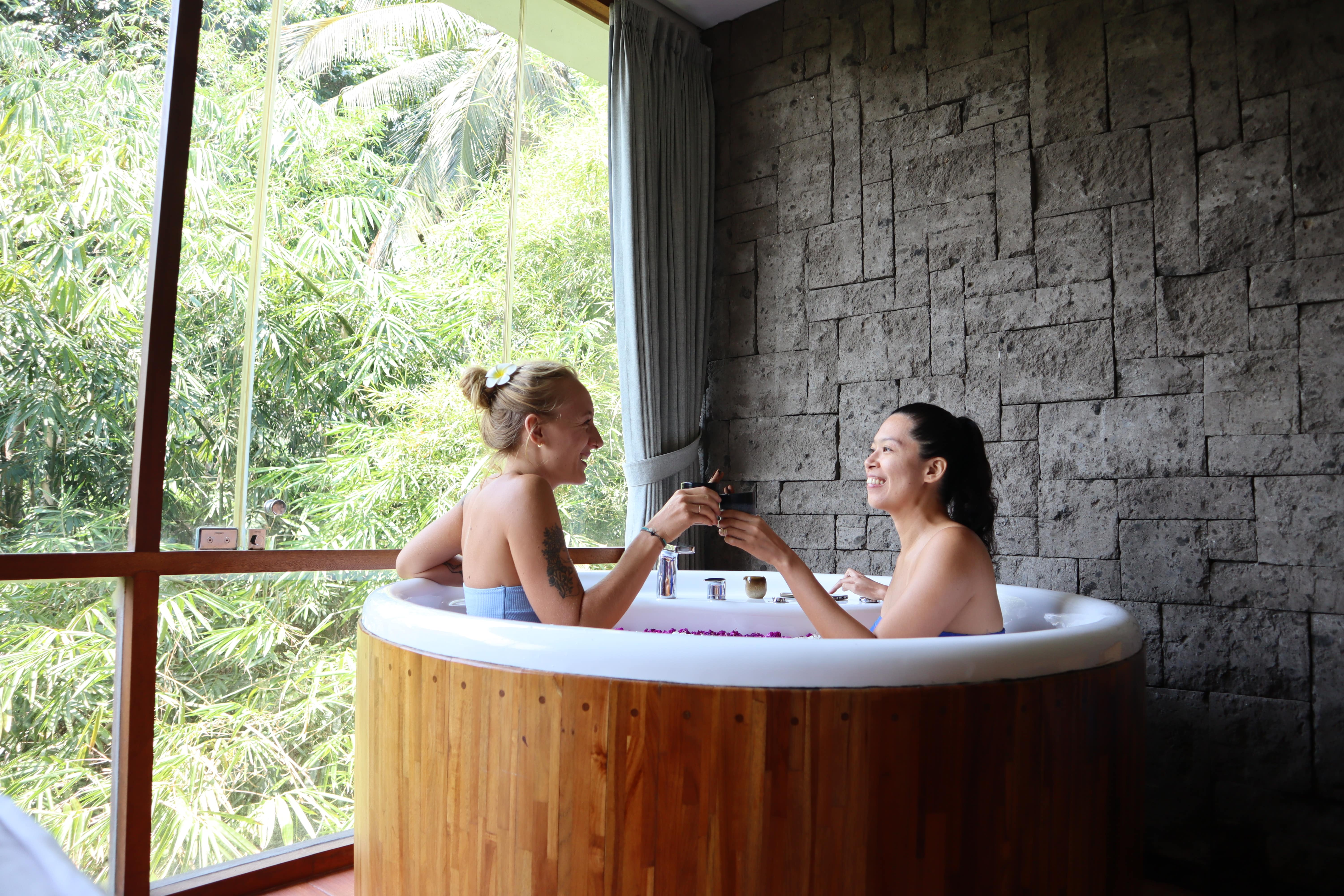 I've visited Bali more than ten times and kept on exploring massages from different spas. Apart from researching online and reading reviews from Google and TripAdvisor, I compared photos and reviewed the spa menu's ingredient list. This spa in Ubud, I got several recommendations from this spa in Ubud a few years back and got to try their services last year. I enjoyed their services and how the entire experience made me relax; that's why I insisted with my friend that we get to experience this together.
Here's our experience during our visit to Svaha Spa Bisma. (I'll be biased; this is one of our favorite spas in Ubud!)
Prior to booking a Massage in Ubud Bali
Before our scheduled spa, I called the Svaha Spa Bisma and made a special request to check if they could accommodate including a flower bath after our massage. The spa was fully booked and was nice enough to give us a schedule inside their room for the honeymoon. Rather than rescheduling, my friend and I just decided to take it because we can't wait for another day to experience this.
Try to call ahead of time (trust me, a 60-minute massage is not enough! ) and check your schedule to see if you can block off at least 2-3 hours to relax and fully enjoy your experience at Svaha Spa Bisma.
About Svaha Spa Bisma by Ini Vie Hospitality
Svaha Spa Bisma is a popular destination for honeymooners but also friendly for solo travelers. The spa is located inside Kaamala Resort in Bisma Ubud. The villa at Kaamala Resort has tubs and a private balcony and is known for being conveniently located 10 minutes outside of the Ubud Center and Monkey Forest. If you're staying at the resort, they offer a free shuttle service that drops you off and picks you up just behind the main shopping street, running hourly. Or after your tours, you can easily ask your drivers to drop you off at the Kaamala Resort.
Svaha Spa Bisma is open to the public and has private spa rooms, each with a maximum capacity of 2 people, after passing by all the villas at the resort. Knowing the spa is inside the resort compound, far away from the main street, was such a relief. It is an excellent escape from Ubud buzz and has a perfect environment with wood furnishings, soothing fragrances, and soulful decorations.
We were greeted by the front desk staff at the hotel when I arrived and escorted down to the spa area, which can be a little tricky to find on your own for the first time. The spa representative at the front desk was very attentive, and we were asked to sit down and given a refreshing cucumber juice upon arrival.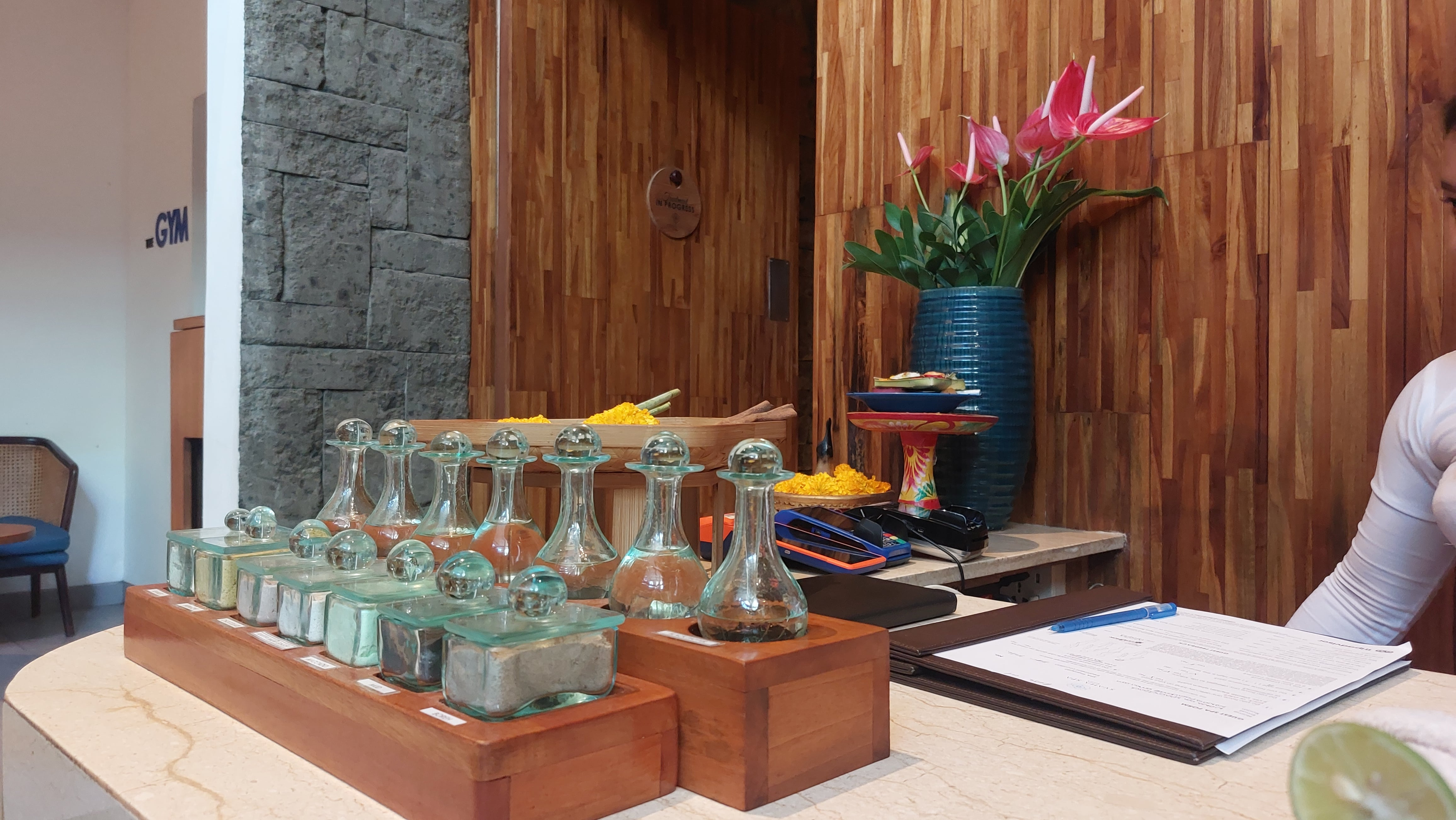 Before we entered the room, we were given a set of questionnaires about our body pain points and which parts of our body parts we wouldn't want to be touched. After that, we get to smell all the oils we want to use based on our preferences. (Honestly, I want to use them all!)
Relaxing Massage & Flower Bath Experience
After choosing our oils and giving details of our pressure request, we were given a slipper and robe, and inside the room was access to a bathroom and shower facilities. I got an Aromatherapy Massage full body massage with rose oil and requested soft to medium pressure. Before we started, the masseuse used a singing bowl and let me smell the oil I chose. It was a very uplifting massage that helped my sore body from my recent Padel game.
After the massage, they served us warm tea, and we got to experience the Flower Bath sensation for 45 minutes while looking at the forest view of Ubud. The bathtub was beautifully designed with colorful flowers to soothe and refresh the body. Balinese tradition holds that bathing in the frequency or energy of blooms quite literally supports the blossoming and flourishing of life. It was believed that the healing powers of the plants would flow into you, allowing you to find a sense of calm more easily to relax. I did feel relaxed during the entire experience at Svaha Spa Bisma.
After our quiet time, we got to take photos at the flower bath. You're able to get in fully nude, bring swimwear, or utilize the disposable underwear they provide. The time flies, so I recommend getting pictures out of the way and just taking in the moment. I suggest booking your spa session during the day; you'll benefit from natural light for your pictures.
Is Svaha Spa Bisma Expensive?
Not all! The total IDR 1,800,000 or approximately $113 USD, that's 45 Minutes Flower Bath (IDR 725,000 or $45 USD) and Aromatherapy Massage 90 Minutes (IDR 733,000 or $46). It's still a great deal compared to most spa prices but more expensive than an experience typically costs on the island. Still, I cannot recommend it enough!
You can pay with credit cards here, although cash tips are appreciated. When you arrive, inform the front desk that you want to be on the list for the next shuttle back to town once your treatment is over. In Bali, tipping is not expected but much appreciated. I recommend at least 100,000 IDR to your attendant, more if they take pictures of you. It comes to roughly $10 but can go a long way for local.
If you want to splurge even more and are on your honeymoon, we suggest trying The Heavenly Packages at Svaha Spa Bisma. You can get a 4-hour package with a massage, chakra reading, yoga class + meditation, and fruit ritual bath. It costs around IDR 3,000,000 or $190 USD for two, a great experience that will melt your stress away.
To make a reservation, you can go online and email the staff or call directly. In normal circumstances, make a reservation at least a week ahead of time to ensure you secure the time and treatments you want.
Experiencing a spa with a forest view in Ubud, should be part of your Bali Bucket list. Not just for your social media but also for rewarding yourself with a well-pampered treatment (the best is to experience it with your bestie!
Till next time, safe travels!