If you want to make the most of your time in Bali, you should arrange for some form of transportation.
The fastest and easiest way to go around Bali is via Scooters or Mopeds this is also the primary mode of transportation for locals. In Indonesia, you can rent your own with an international license or use a ride-hailing app.
However, the increasing number of visitors has made Bali's transportation infrastructure far more developed than any other island in Indonesia. So, you won't have to ride a moped if you don't want to; there are plenty of fantastic ways to move around Bali.
Upon Arrival at Bali International Airport
You'll arrive at the central gateway to Bali which is Ngurah Rai International Airport (DPS) and it's located between Kuta and Jimbaran. Before your date of arrival, ask your accommodations or resorts might offer free shuttles or chargeable private transportation. There are also available Private Taxi or Blue Bird Taxi Kioks after customs at the airport and pay at the airport's designated counter, the rates estimated depend on which part of Bali is your drop-off point.
If you're thinking of using a ride-hailing app like Grab but you don't have limited internet access you can go outside the airport beside Circle K and in front of the parking garage you will see a Grab Lounge and they can book a motorbike or taxi and you just pay the cash.
Ways of Getting Around Bali in 2023
Let's look at the five most common modes of transportation in Bali to help you organize your upcoming vacation. Here's a comprehensive guide to ease your journey and enhance your experience: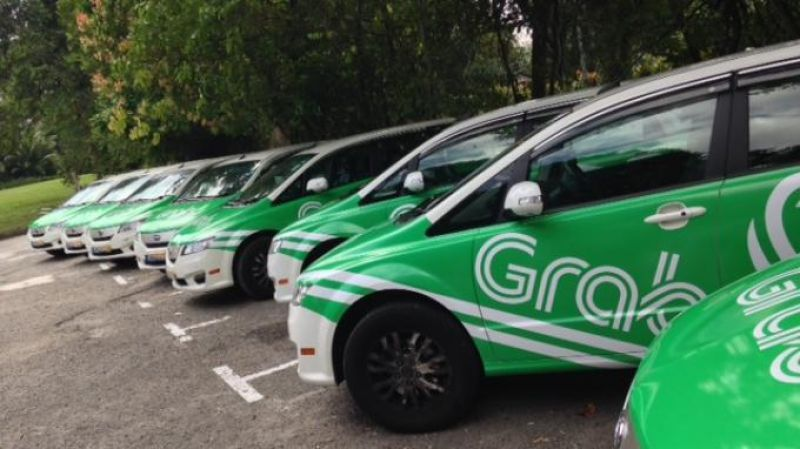 The most convenient and popular way to get around Bali is via ridesharing services like Grab and Gojek have become increasingly popular. Grab is easy to use, howehowever,p in mind that some places have designated drop-off areas. A Grab ride in Bali could take longer than expected because to traffic. During your time in Indonesia, you will get very familiar with the names Gojek and Grab. Both apps have motorbikes or car services you can use to go around Bali.
We advise downloading Gojek or Grab before your flight to Bali if you plan on using them. Both services demand confirmation through text messages. If you don't intend to acquire a SIM card and phone plan in Indonesia, setting up your account should be done before turning off your phone's cellular data connection.
How to Use Gojek or Grab App
Download the Gojek or Grab app to arrange for a scooter to be picked up from your location. When you place your order, the price is final and cannot be negotiated. There is a set price structure. However, rates do go up during the busiest times of the day. You can pay in person your driver via cash or through the app by using your debit card or credit card.
Just a reminder it depends on where you from, not all international credit cards can be linked to the app to better you prepare cash and the exact amount of your fare ride.
Reasons to use Gojek or Grab instead of a Taxi
Give tip easily to your drivers – It's simple to tip the driver after a ride, as long as your payment method is linked to the app (which just takes a few seconds to do). This will buy you some time to consider the proper payment and help you avoid an embarrassing scenario.

Reliable chat support and drivers – Both apps have dependable assistance whether connecting to your drives or customer support. All drivers are subjected to a comprehensive verification process before they are permitted to join the platform, so you can rest assured that you will receive the samehigh-qualityy of service every time.

Cashless payment system – You can use a cashless payment process means you may avoid carrying around significant sums of cash at Ngurah Rai International Airport and when you're out and about in Bali.

Track your booking instantly– The booking and monitoring system eliminates the need for passengers to wait in long taxi lines or make direct contact with drivers by allowing them to order a ride and monitor its progress in real-time.

Multiple vehicle options – Both apps offers a wide variety of vehicles, from cars and vans to motorcycles at a fraction of the cost, depending on your destination and the luggage you're carrying while getting aroundBalii.
Getting around town by ordering a Gojek or Grab is a common and affordable option. You need only to hold on and don't forget to ask your driver to borrow their extra helmet. The daily rate for renting a scooter is IDR 100,000 or $7 USD yet a ride in a Gojek or Grab could cost you one way for short distances at IDR 17,000 or $2 USD.
You can take comfort in the fact that your driver is a native Indonesian and hence familiar with the roads and their layout. (It is still common for locals and visitors alike to ride scooters without helmets in Indonesia.)
2. Renting A Scooter or Moped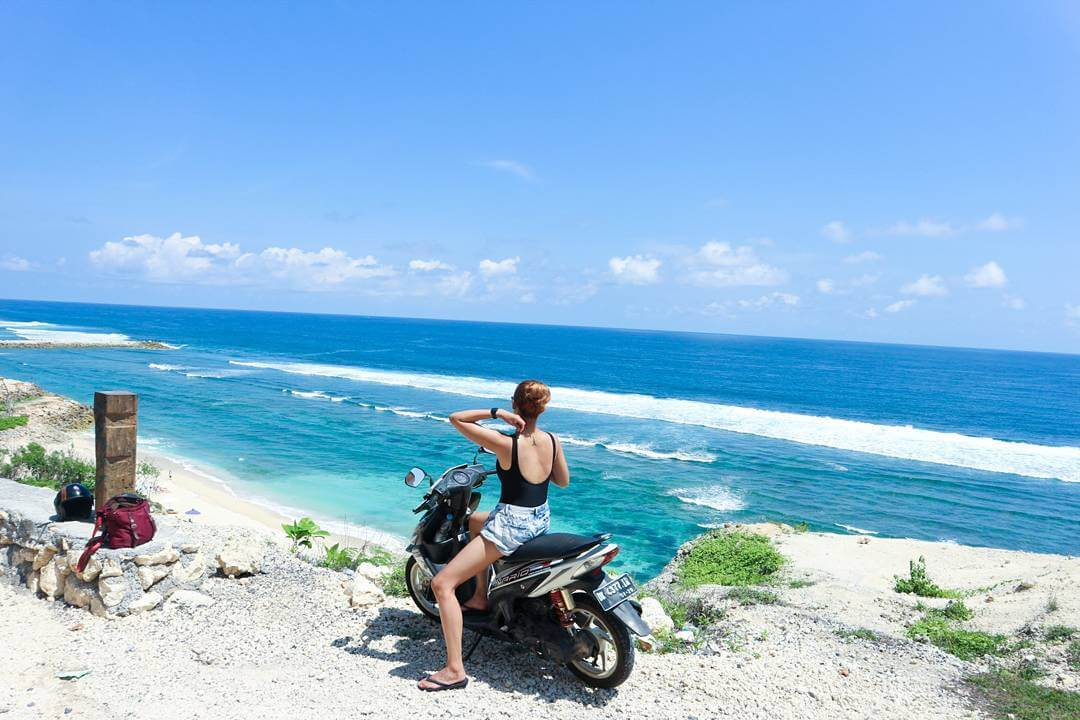 For shorter trips, consider renting a bike. Kuta, in particular, has numerous rental spots. With prices ranging between 60,000 rupiahs ($5) and 350,000 rupiahs ($24) per day, services like Bali Bike Rental, Bali Rides, and Bali Eco Cycling are recommended. Yet, considering Bali's bustling traffic, it's advised to skip biking in jam-packed regions like Denpasar.
Renting a motorbike in Bali is a thrill, but there are rules: helmets are a must, and being updated on acceptable police regulations is essential. Prioritize safety, secure an international driving license, and opt for wider roads if possible. Click here for recommended rental services.
How to rent a scooter in Bali?
Wherever you find yourself in Bali, you can expect lots of places that of scooter rental options. Renting scooters is a big business, and every town has many establishments to choose from. Some hotels, hostels, and homestays also rent scooters to their guests.
We suggest looking around to find the best deal you can negotiate with. Many scooter rental companies have their WhatsApp number listed on Google, so can easily shoot them a text. Of course, you can also pop into a shop when you inevitably pass one on the street. It never hurts to ask other travelers for personal recommendations either!
How much does a scooter rental cost in Bali?
The prices can depend on the town and the scooter's age and the CC power of you're renting. The longer your rental period, the better the daily rate. Here's a quick price guide:
Ubud: IDR 80,000 - IDR 100,000 /day | IDR 450,000 - IDR 550,000 /week

Canggu: IDR 75,000 - IDR 100,000 IDR/day | IDR 450,000 - IDR550,000 IDR/week.

Uluwatu: IDR 70,000 IDR/day or IDR 420,000/week.
Your scooter rental provides helmets, often with the bonus of a handy poncho.
Do I need an International Driving Permit in Bali?
Yes. Legally, an International Driving Permit (IDP) is required to drive a scooter in Bali. While some rental businesses might not look for it, the police will. If they pull you over without an IDP, expect a fine. Avoid unnecessary hassles and get an IDP before your trip. If you're planning on going to Indonesia (or any Southeast Asian country for that matter), it's worth planning ahead and getting an IDP before you go.
Tips for Riding a Scooter in Bali
Riding a scooter in Uluwatu or Ubud is not like driving a car back home. The rules of the road are a little more… creative. Things that would never happen in most Western countries are normal here.
Safety First: Wear your helmet, always. Bali's roads have seen too many accidents with tourists unfamiliar with the unique traffic dynamics. Ensure your helmet is in good condition, whether provided or bought separately.

Stay Calm & Ride On: Bali's road etiquette might seem...unconventional. Scooters might zoom in from unexpected directions, but panicking won't help. Instead, stay alert and move predictably.

Mindful Riding: While the road rules might differ, caution never goes amiss. Understand local driving practices to ensure safety for all.

Communicate with a Honk: In Bali, your horn is your signal, not your weapon. A timely honk can alert another driver of your presence, ensuring safer overtakes.

Protect Your Eyes: Bali's open roads can be a magnet for dust and bugs. Sunglasses or protective glasses can be a lifesaver.

Always get Travel Insurance: For your safety, it's advisable to always have insurance while in traveling.
Feeling overwhelmed? If you don't know how to drive a scooter there are still other options in getting around Bali.
You can hire a car with a driver in Bali for about $15- $30 USD for 8–10 hours.They are yours for the day and will take you where you need to go and pick you up as well. It's a good idea if you want to see the sights and move around at your own pace without having to find cabs and haggle over prices.
This is one of the best option if you're traveling as couples or with children. Four sitter car could cost 500,000 IDR for 10 hours, which was enough to get them from Canggu all the way up to Ubud and let them stop at a few places along the route.
Hiring a car with a driver is a great way to get around the island, especially if you want to go to places like Ubud or Kintamani for the day from Seminyak, Canggu, or Kuta. It's also much easier to do. You can even rent for a week or more, which will save you even more money.
For those confident behind the wheel, global agencies like Hertz, Sixt, Avis, and Budget operate locally. However, Bali's unique driving conditions require caution and appropriate International Driving Permits. It might be also a challenge to find parking spaces for cars.
Always utilize a meter while taking a cab. Blue Bird Group is reliable and has an app. As you travel to Bali, you'll notice there are many taxi drivers. Someone and his friend will give you a taxi anywhere. The Bali song chorus is eager "Taxi! Taxi!" You'll hear it twice a block. Some taxi drivers carry a little "TAXI" sign. Others stand with friends on the street corner.
Taxis are easy to find in every city. Finding an affordable driver is challenging. Now, Bali has many honest and caring drivers. However, some drivers quote ridiculously exorbitant prices. Haggling won't work if the driver wants to take you for a ride.
Before negotiating, study how much a trip should cost. You might ask your hotel for a general estimate. That way, you can start the negotiation with information and detect a terrible deal. Always negotiate a price before traveling. You can use the meter for shorter trips, but avoid busy hours. Traffic in major cities is unpredictable and often halts during rush hour. The meter is your enemy for most rides. Bali has several cab providers, however, Bluebird is the best.
6. Public Bus or Private Shuttle
If you're traveling with a bigger group hiring a private shuttle might be helpful. Your popular option for this is Perama Tour & Travel for private tours. If you are adventurous and want to experience public bus transportation you can try Kura-Kura Bus for public transit which runs from Kuta to Ubud.
Shuttles do exist between certain towns, but you will find no evidence of this online. The best way to find a shuttle is to look around as you explore the town. Some stalls selling tours and activities also run shuttles. There's usually a schedule and price list hanging amongst posters of temples and waterfalls.
7. Fast Boat or Private Yacht
Island-hopping is made convenient with boats and ferries. Always prioritize safety and consider operators like Perama Tour & Travel and Blue Water Express.
There are many ways to get around the island, from scooters that let you feel the wind in your hair to private cars that are as comfortable as they are luxury.
But what makes a Balinese journey truly unique are the adventures, the unexpected side trips, and the stories told by local guides. As you plan your way through this tropical paradise, don't just pick a way to get around. Instead, try to enjoy every moment, sight, and person you meet. In Bali, the journey is often just as important as the goal.
What is the best way to get around Bali?

It depends on your preferences and itinerary. For flexibility, rent a scooter or use ride-hailing apps. For comfort and guidance, hiring a car with a driver is ideal.

How do you get around Bali without a motorbike?

Ride-hailing apps like Grab or Gojek is the best way to go around Bali if you're traveling solo but for couples or group, it's best to hire private rental cars or shuttle buses.
If you think we missed any additional information, send us a message, and we would be happy to update this article.