If you want to go to Bali for a tropical vacation, getting a visa for Bali is very easy. Bali has become a bucket-list location for travelers worldwide because of its beautiful beaches, lively culture, and lush landscapes.
This Indonesian paradise has something for everyone, from the wild waves of Uluwatu Beach to the peaceful rice fields of Ubud. In this complete guide, we'll show you how to get a visa for Bali, whether through a visa on arrival or EVoA. If you're also a digital nomad or you want to stay longer in Bali, this article is also for you. So you can start planning your trip to Bali without worrying about papers or entry requirements.
🗺️What are the types of Visas in Bali?
What kind of visa you need to visit Bali relies on three main things: your nationality, why you want to go, and how long you plan to stay. Here are the types of visas in Bali, Indonesia.
Visa on Arrival - Tourists from ASEAN countries can get a visa-free to enter Indonesia, and other nationalities can obtain their VOA when they arrive in Bali. Visa on Arrival is valid for 30 days and is extendable to 30 days, which allows you to stay up to 60 days.

VISA 211 (Social Cultural Visa) - This visa is for people who want to learn about Indonesia's culture and social life. This type of visa requires sponsorship from an Indonesian citizen or a registered company in Indonesia. There are three types of 211 Visa :

B211 A - For tourism, social cultural visits, family, and business meetings.

B211 B - Industry activity like training or internship.

B211 B - Journalists and Film making (recommendation needed).

Business Visa - This is for people who want to do business-related things in Bali, like attending meetings or workshops. It is essential to know that this visa does not give the user the right to work in Bali.

Work Visa, or KITAS - This type of visa lets people from other countries work in Indonesia, and to get a KITAS, an Indonesian company must sponsor you.

Retirement Visa - Despite what was said earlier, foreigners cannot work in Indonesia with a Retirement Visa. Instead, it is for retirees who want to stay in the country long. To obtain this visa, retirees must meet specific financial requirements and provide proof of health insurance coverage.
Always check with the Indonesian consulate or embassy in your home country to ensure you're filing for the correct visa and meeting all the requirements.
🗺️Which countries can enter Bali on a visa-free?
Countries part of ASEAN are exempt from VOA can enter for free (max 30 days), and these countries are:
Singapore

Philippines

Cambodia

Malaysia

Thailand

Laos

Myanmar

Vietnam

Brunei
🗺️How to get a visa on arrival in Bali?
Citizens from ASEAN countries can visit Bali for up to 30 days without a visa. With this non-extendable visa, you can't do any paid work. Other nationalities can enter via Visa on arrival and pay a fee. This is available to people from some countries, like the United States, Australia, and most of Europe. VoA lets you stay for 30 days and allows you to extend your stay for another 30 days one time. With this visa, you can stay in Bali for up to 60 days for tourism purposes. Here's the complete list of countries that need to apply for visa on arrival
The VOA payment desk,is the first counter you'll and it is before the main line that checks your passport at the immigration. Upon entry, if you haven't processed your VoA online, you have to go to this kiosk and mention how long you plan to stay and pay the fees. They'll give you a paper after payment of IDR 500,000 or $35 USD, and then you'll be sent to a second counter to check your passport and get your VOA stamp that says the validity of your stay and if it's extendable. The paper that you'll get is not your visa extension. That proves your visa on arrival is extendable for another 30 days. In short, ten days before your visa expiry, you will still need to visit to extend your visa.
🔎BGB TRAVEL TIP - These desk queues have shorter lines than the main passport control queue, so you get through quickly! Always check the validity of your stay given by the immigration officers to your passport to avoid overstay penalty fees.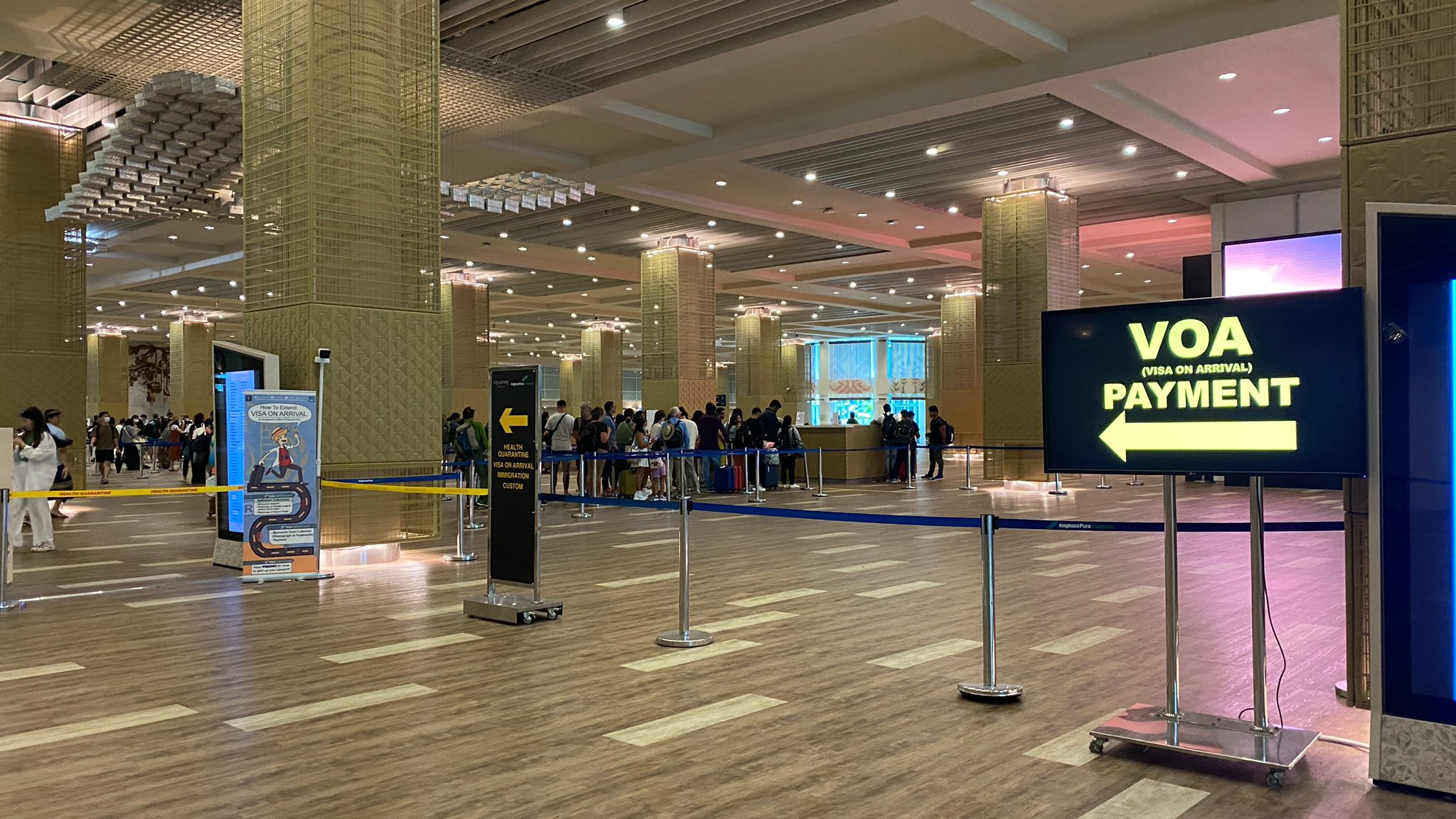 🗺️ How much is the visa on arrival in Bali?
As of 2023, the cost of a visa on arrival charge is IDR 500,000 or $35 USD, allowing you to stay 30 days in Bali. This charge may vary any time, so verify with your local Indonesian embassy or consulate beforehand.
Visa extension for visa on arrival costs IDR 500,000 or $35 to extend your stay for an additional 30 days. This lets you stay another 30 days without leaving the country. Visa extensions are allowed; however, overstaying without permission can lead to fines or deportation. Your nationality and visit intent can affect costs and rules. Always research and comply with immigration laws before traveling.
What are the requirements for a visa on arrival in Bali?
Arriving at Bali airport, you must prepare the following and present this to immigration: go to the kiosk with a queue for 'Visa on Arrival'. The following documents you need to show in immigration:
A valid password for at least 6 months upon entering Bali.

Proof that you're flying out of Bali before your visa expires. You must prepare a confirmed return ticket or a ticket to your next destination.

Sufficient funds to meet the expenses during your stay.

Booking of your accommodation during your stay in Bali.

Have cash on you for your visa fee OR visa on arrival document (if arranged through an agency or processed online)
🗺️How to extend a visa on arrival in Bali?
It may be a little confusing upon arrival in Bali as the stamp you will get at the airport still says 'expires after 30 days'. The IDR 500,000 or $35 USD payment only allows you to extend for another 30 days - it does not mean you can automatically stay for 60 days. If you wish to stay longer than the initial 30 days, you have two options you can choose from on how you can extend your visa on arrival in Bali.
Direct Extension at the Immigration Office

You can visit any Bali immigration office, handle the necessary paperwork, and proceed with the extension procedure yourself. In my experience, after lodging my extension, I had to come back another day for biometrics and photos and then get another schedule to pick up my passport. The immigration office also didn't accept cards, so preparing cash for visa extension fees is best.

Before going to the immigration for your visa extension, make sure you have the following documents with you:

Valid passport and a photocopy of your paspport

Visa on arrival receipt you got from the airport

Proof of exit ticket from Indonesia (they didn't ask about this, but incase they asked, I already booked via onward ticket)

Cash payment for your visa extension

If you don't mind going back and forth to the immigration, this process might be best for you to save on processing fees. But if you have a full travel schedule and want to maximize your time in Bali, the next option is best for you.

Extend Visa Using a Visa Agency

Extending using a visa agent is the most convenient way, with my experience with the agent I used, VISA4ABLI. They will arrange your payment and passport pick-up, while other agents will ask you to drop by their office. You must use a reputable VISA agency in Bali to extend your visa to avoid fees. Doing it alone may cost only another IDR 500,000 or $35 USD, but going through this process and returning to immigration twice is quite a hassle. If you use an agent to extend this on your behalf, the starting rate is IDR 800,000 or $50 USD for their services. You only visit the immigration once; the visa agent will deliver the passport to your accommodation.

Using a reliable agent is well worth the extra money because they will make the process much easier for you, and you will only have to go to the immigration office once to sign your papers, have your picture taken, and have your fingerprints taken.

It might be cheaper if you try to do everything yourself, but you'll have to go to customs more than once and wait a long time. So, I don't think it's worth it. I've been using the services of VISA4BALI, and it's very convenient that they pick up my passport and send me a message when to go to the immigration office when it's time. They will also keep you posted if the immigration system is down or if there will be any upcoming holiday that will cause a delay in your visit or visa issuance. And did we say they can also help arrange transport services if you need to visit the immigration. Inform them beforehand if you need a car to drop you off.
***You need to start the extension process at least ten days BEFORE your initial 30 days are up, as it usually takes a few days to complete. This VISA is also a single entry for travel and tourism.
🔎BGB RECOMMENDED VISA AGENT FOR BALI : Here's VISA4BALI contact information if you need any visa assistance; our recommended agent:
🗺️Can I apply for a Visa Online for Bali?
YES! Before arrival at Bali's Ngurah Rai International Airport, you can request a VOA or use the more accessible e-VOA system introduced in early 2023.
The VOA and e-VOA are valid for 30 days, and that visa can be extended for another 30 days in Indonesia (60 days in total). It is best to try applying for your online access during weekdays since this is a new system, and there might be some hiccups in the processing.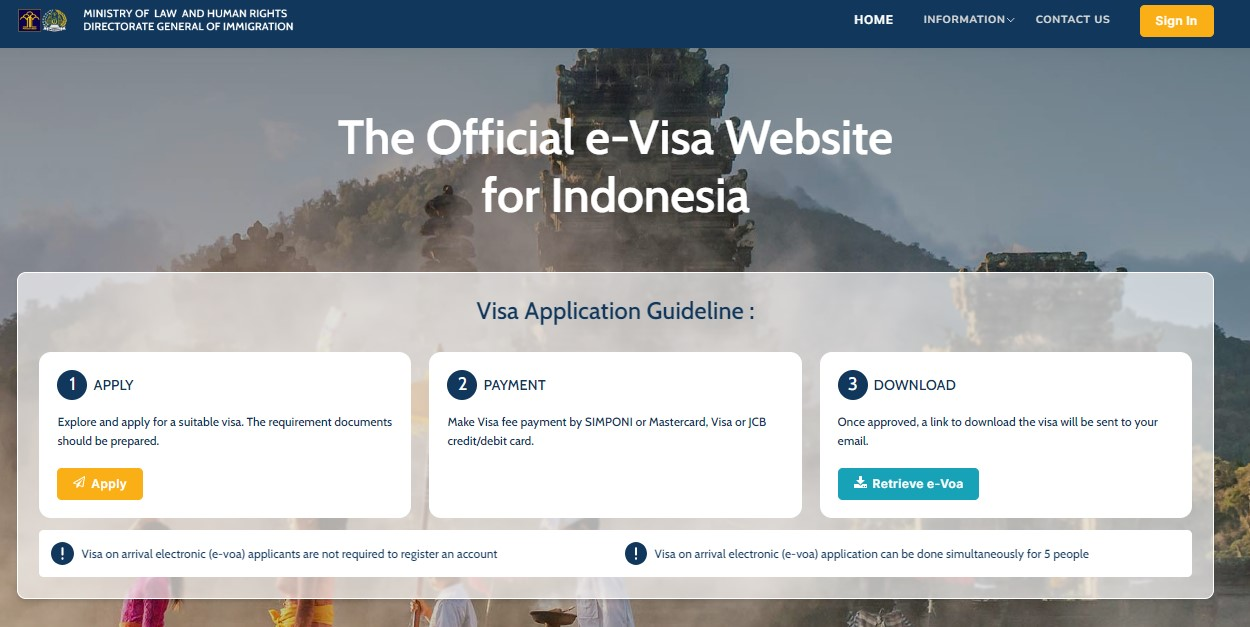 If you are sure you're extending more than 30 days in Bali, applying for the 60-day visa is best, so you won't need to go to immigration. The online system would be great, but since it's new, don't expect it to run smoothly all the time. No one will actively respond to help show up to immigration, and they couldn't help because they don't have access to the online system. I had friends who only applied for 30 days and couldn't process the online extension, so they ended up using an agent for an extension.
🔎BGB TRAVEL TIP: You can now apply via an e-VOA + extension before entering Indonesia, and you won't need to visit the immigration office if you apply for the 60-day visa. This is a new option introduced in 2023. Get your e-VOA + extension here.
VISA B211 A Social Cultural Visa (Best for Digital Nomad, valid for 6 months)
This visa is valid for 60 days and is meant for social and cultural visits, like seeing friends or family or exchanging culture with Indonesian groups. But you can ask for an extension up to 2 times and get an extra 60 days each time. Social Visa or B211A allows you to stay in Bali for up to 180 days.
I used this visa when I chose to go to Bali to study yoga and breathwork facilitator training since I had a two-month gap between those courses. If you're a digital nomad and considering exploring Bali or want to stay in Bali for more than 60 days or even consider making it your temporary home base, this visa might be the best option since it allows you to stay up to 180 days in the country.
Remember to apply for this visa from OFFSHORE or OUTSIDE of Indonesia. It only lets you enter the country once, and you cannot work using this visa. To apply for a B211A VISA, we highly recommend using a reliable agent who will guide you through everything and handle all the papers.
🔎BGB RECOMMENDED VISA AGENT FOR BALI : VISA4BALI is also the visa agent in Bali who processed my visa B211A since I had a gap between my teacher training. If you have questions about the requirements and fees of this visa, feel free to contact them.
🗺️ How much is the B211A Social Cultural Visa?
As of 2023, the cost of a B211A Social from our trusted agent is IDR 2,600,000 or $200 USD, allowing you to stay 60 days. You can ask for an extension up to 2 times and get an extra 60 days each time in Bali. The cost of each extension for B211A Social Cultural Visa is IDR 2,000,000 or $135.
If you decide to maximize your allowable stay in Bali, your total cost for B211A visa is more or less IDR8,6000,000 IDR or $600 USD. This price charge may vary anytime, so verify with your Indonesian visa agent.
🗺️What's the visa extension process in Bali?
If you want to stay in Bali longer than the original visa lets, you must ask for a visa extension. Depending on your visa type, there are different ways to do this. Here's how you can get these extensions and where you can get them:
For a Visa on Arrival, you must start the process 7–10 days before your present visa runs out. To do this, you will need to go to one of the local immigration offices, which are in central places like Denpasar, Nusa Dua, or Singaraja. There, you'll fill out a form to ask for a passport extension, bring your actual passport and a copy of the form, and pay the extension fee.
The process for extending a B211A Social Cultural Visa is similar; you can do it up to two times. Each extension gives you an extra 60 days to stay, allowing you to stay in Bali for up to 180 days. Again, you should start the extension process about 5-14 days before your visa expires. This can be done with the help of your agent to process it at the offices in Denpasar, Nusa Dua, or Singaraja.
🗺️ Where are the Immigration Offices in Bali?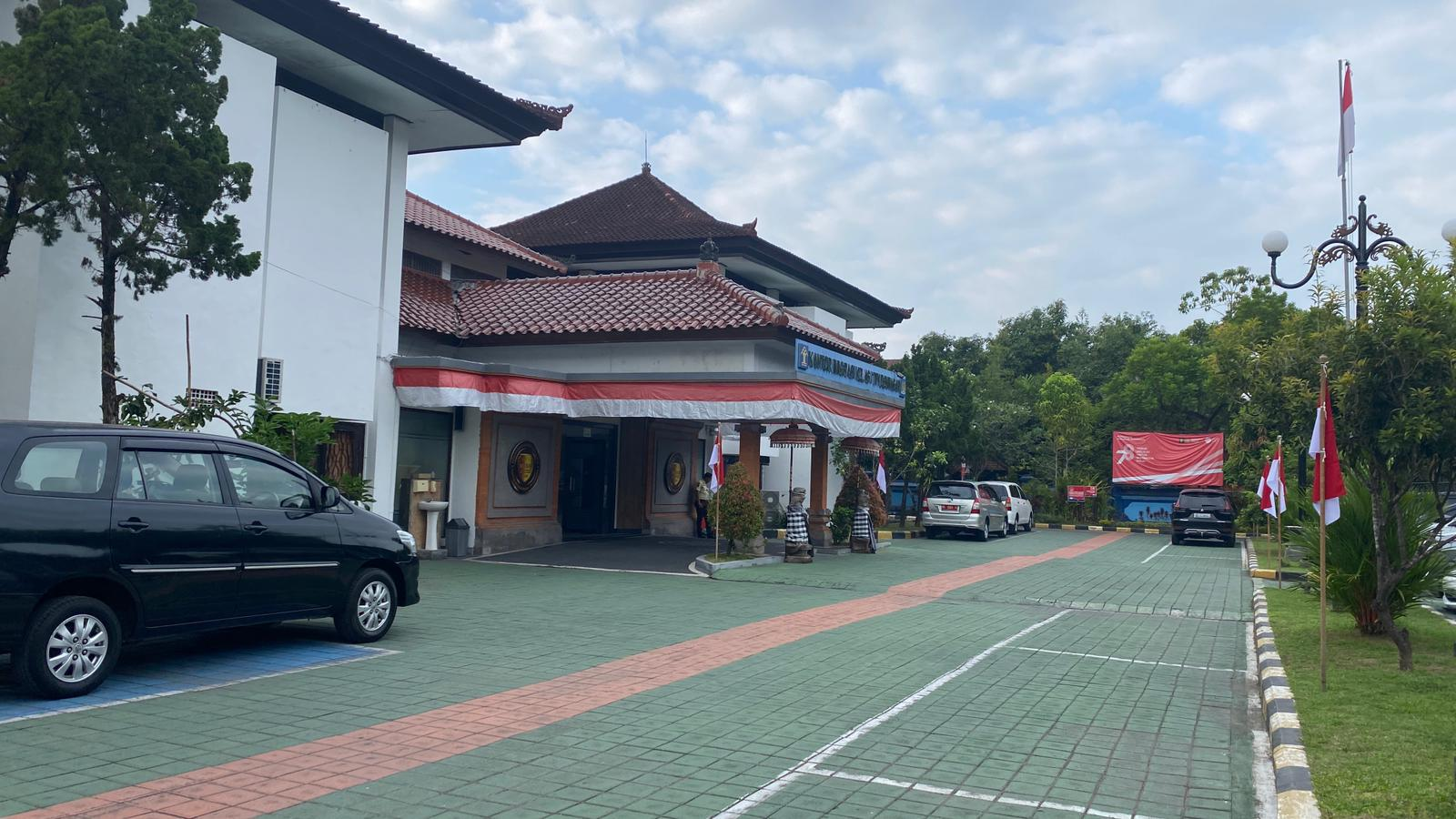 BGB TIP: If you decide to do your visa extension at any of these immigration offices, they close the office during lunch breaks, and they might have a cut-off. The immigration office is closed on weekends, and always check the holiday schedule in Indonesia.
🗺️How long does it take to extend Visa in Bali?
Extending via visa agent can take anywhere from 5 to 14 days. This varies depending on what service you pick if it's standard or express service. Prices for this service range from $50 to $75 USD (Visa on Arrival) or from $220 to $250 USD (B211A). Ensure you apply for your visa extension two weeks before it runs out.
Smaller visa service companies that aren't well-known on Google are much cheaper for Visa on Arrival or B211A. But you might be taking a risk because you know nothing about their service. Our visa partner helped us get our last visa on arrival extension and B211A application. Feel free to connect with them and ask about the requirements.
Disclaimer: This article is updated regularly, but the visa situation might change. Please always double-check with the local authorities or your visa agent.
🗺️What happens if you overstay in Bali?
Each day of overstay under 60 days is considered an administrative offense and is subject to a fine of IDR 1,000,000 or $65 USD per day. A criminal overstay of more than 60 days is punishable by up to 5 years in prison and a fine of up to IDR 500 million or $30,000 USD.