Bali attracts worldwide tourists. The island's economy and currency exchange sector have benefited from this diversity. To enjoy and save money in Bali, you must understand money exchange. This article covers Bali money exchange and safety guidelines.
How to understand money in Bali
The Indonesian currency, the rupiah (IDR), can initially be challenging to understand. There are denominations of notes in Bali the following.
Rp 1,000 - these are yellow

Rp 2,000 - these are grey

Rp 5,000 - these are brown

Rp 10,000 - these are purple

Rp 20,000 - these are green

Rp 50,000 - these are blue

Rp 100,000 - these are red
Coins are less popular and come in 25, 50, 100, 200, 500, and 1,000 rupiahs denominations. Notably, the 10,000 and 100,000 rupiah notes might appear identical, necessitating extreme caution while purchasing. Consider using an online currency converter, such as OANDA, which includes a printed cheat sheet for easy reference.
When lesser denominations are unavailable, a unique component of Indonesian business is the provision of sweets or peanuts as change. It's a harmless ritual that reflects native friendliness—yet another aspect of Bali's distinct charm.
Selecting Your Currency for Exchange
Bali has attractive currency rates, frequently better than those in your home country. As a result, swapping for a rupiah after arriving in Bali is often recommended.
Most money changers in Bali will exchange all major currencies, so you won't need to bring anything besides your cash. More importantly, clean, undamaged bills attract a higher exchange rate. If you're acquiring US currency, make sure it's recent, as older bills may not be accepted owing to historical counterfeiting issues.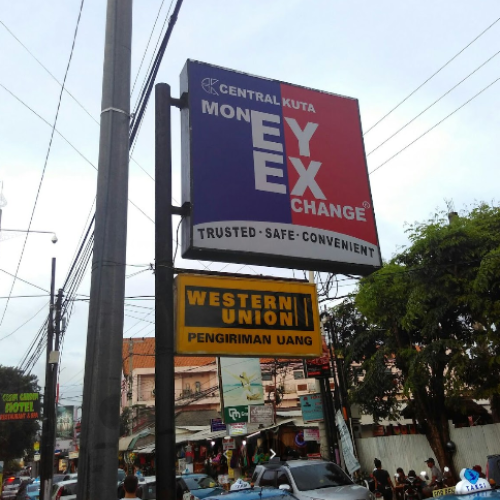 Credit Cards, ATMs, and Airport Exchanges
Credit cards are accepted for significant purchases, lodging (except smaller places), department stores, and larger restaurants. However, because this isn't as common in Western countries, double-checking ahead of time is advised.
ATMs are common in the southern regions and around Ubud, but few in more rural areas such as Amed. ATMs can dispense either 50,000 or 100,000 rupiah notes, with machines that dispense the latter typically enabling more significant transactions (up to 3 million rupiahs).
Airport money changers provide a lower exchange rate than those outside the airport. You could exchange a small amount at the airport to cover the first 12-24 hours until you can access a higher rate changer.
How much cash can I take to Bali?
The Indonesian Central Bank implemented a new banking regulation in March 2018 that limits individuals' ability to bring in foreign currency notes to IDR 1 billion (about USD$75,000). If someone brings in more, customs officers can take it.
Be warned that any money above IDR 100 million (about USD$7,500) must be declared while clearing customs, and you must record this on your immigration form, which must be filled and provided upon arrival.
Where are the best money changers in Bali?
Here is the most trusted money exchange establishment in Bali:
Where is the Best Money Exchange in Kuta?
Here are trusted money exchanges in Kuta:
Where is the Best Money Exchange in Seminyak?
Here are trusted money exchanges in Seminyak:
Where is the Best Money Exchange in Ubud?
Here are trusted money exchanges in Ubud:
Where is the Best Money Exchange in Canggu?
Here are trusted money exchanges in Canggu:
Where is the Best Money Exchange in Uluwatu?
Here are trusted money exchanges in Uluwatu:
Where is the Best Money Exchange in Sanur?
Here are trusted money exchanges in Sanur:
Money Changers in Bali: How Not to Get Ripped Off?
Despite the island's charm, remember that not everyone has the finest intentions. Exchanging money in Bali is generally safe. However, if you follow the instructions below, you can easily avoid such pitfalls:
Avoid the Unauthorized Money Exchange - Avoid using a money changer located down an alley, behind another company, or without an "authorized" sign.

Keep Your Money - Don't give up until you know an honest exchange. Allow no interruptions during the transaction and refuse notes with denominations less than 50,000 or 100,000.

Maintain Control of the Transaction - Never allow anyone to touch it after you have counted the rupiah. If required, double-check your calculations with a calculator.

Reiterate and Retain - Count the rupiah twice before handing over your money. Keep the rupiah in your hand and do not return it to the counter.

Trust Your Instincts - If you feel uneasy or suspect, leave. If you have been duped, return and demand the remainder of your rupiah. Once you've discovered a trustworthy changer, keep with them.
Following these tips will safeguard you from scams, ensuring your Bali adventure remains a positive memory.
USD MONEY TIP: If you have an older USD bill, try exchanging it with a local bank in Bali.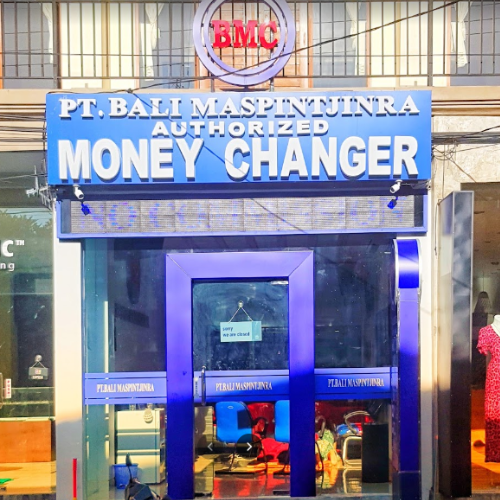 Knowing the money exchange process lets you maximize your Bali visit. It's crucial to remember to stay vigilant, trust your instincts, and ensure you understand the local currency. Remember these tips as you enjoy everything Bali offers, from its mesmerizing landscapes to its vibrant culture and warm people. Safe travels!
Frequently Asked Questions
1. What is the official currency of Indonesia?
The Indonesian Rupiah (IDR) is the official currency of Indonesia.
2. Are smaller IDR denominations a red flag at money changers?
Yes, if a money changer tries to give you denominations smaller than 50,000 or 100,000 notes, it's likely an attempt to cheat you.
3. Should I use a money changer that offers rates significantly higher than others?
No, if a money changer offers rates significantly higher than others in the area, it's often a sign of potential fraud.
4. What should I do if I believe I've been cheated?
If you have been cheated, return to the money changer and demand the rest of your rupiah. Most fraudulent money changers keep a ledger of the amounts they have skimmed and will know exactly how much they owe you.
5. Can I use my calculator to check their calculations?
Absolutely. You can use your calculator to clarify their calculations.
6. Do I need a passport when exchanging money in Bali?
Unlike banks, Most money exchangers in Bali don't require you to see your passport. But they also accept a photo of your passport, so always have a copy of your passport on your phone.