Uluwatu is beyond surfing and beautiful temples looking over cliffs of the Indian Ocean, and this place is also becoming a well-known thriving yoga community. The beautiful sunrise greets your sun salutations here, and the waves serenade your evening meditations. Let's dive deeper into where you can experience yoga in Uluwatu; whether you're a beginner or a long-time yoga practitioner, this list is for you.
What do you need to know before practicing Yoga in Uluwatu?
Before choosing which y Yoga in Ubud, read our guide about everything you need to know before you go to Bali. We put in a lot of trip information, like how to get around Bali, how to buy a SIM card, and other essential things to know about Bali.
Here are a few more things to keep in mind if you want to go to a yoga studio in Uluwatu:
Arrive 30 to 45 minutes before your class so you can arrange payment or sign-up process without rushing to your desired class. Most yoga studio in Uluwatu accepts drop-in students unless there's a particular workshop or big community event for which you must buy passes ahead of time to secure a spot.

The majority of yoga studios in Uluwatu accepts cash or card for payment.

You can order a GoRide (also called a scooter) through the GoJek or Grab app if you don't have your scooter. When your driver comes, hop on the back, and he or she will take you to the yoga studio in Ubud of your choice. Your driver will also provide you with a helmet.
Ready to choose which yoga studio in Uluwatu is for your practice? Here's our list to help you decide!
1. Aylan Yoga School at The Istana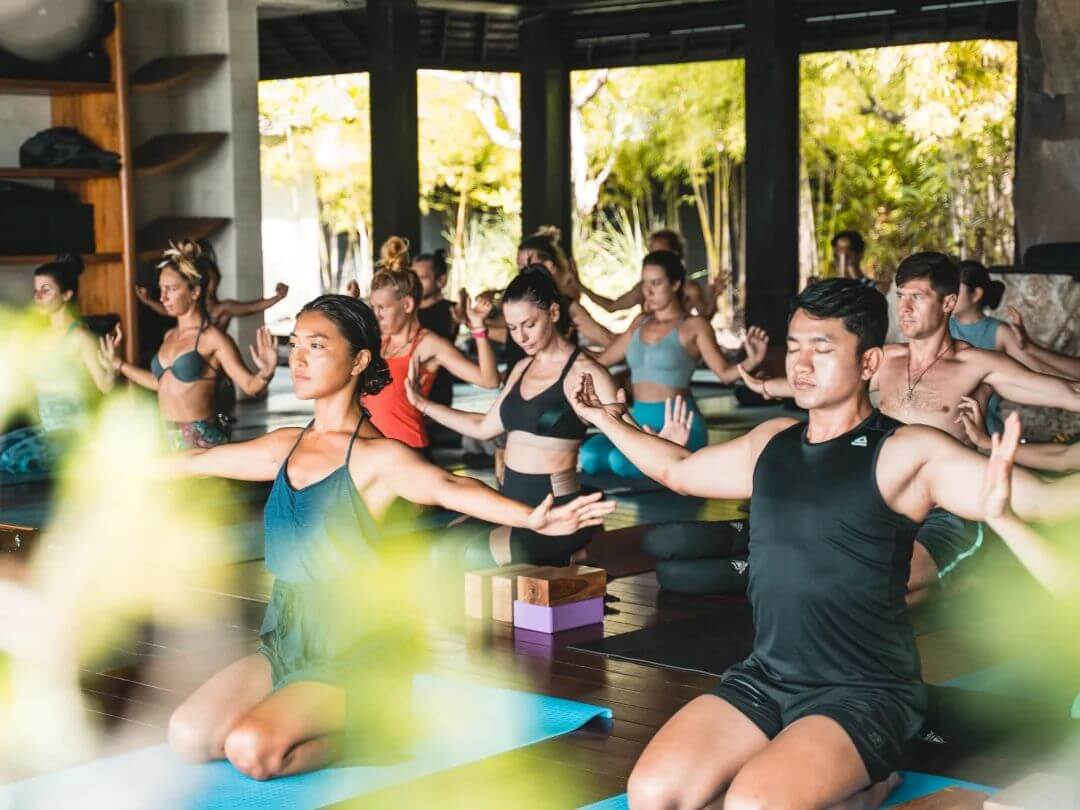 The Aylan Yoga School at The Istana is for you if you want to be pampered from head to toe and feel like royalty while moving carefully through yoga classes. The word "Istana" in Indonesian means "castle," so it shouldn't surprise you'll be treated like a king while you're here. With daily yoga classes on the Uluwatu cliffs facing the ocean. You flow through the school's signature Istana Vinyasa classes, Jivamukti Yoga with music, or Tantric-Hatha classes. Also, if you're interested in a spa day or modern biohacking, you shouldn't miss visiting this place.
🧘Best for: Classes are available for all levels and other styles + cliff views.
Price Starts from IDR 150,000K or $10 USD for Drop-In Class

Phone:

Opens at : 7 AM–6:30 PM

Visit their socials.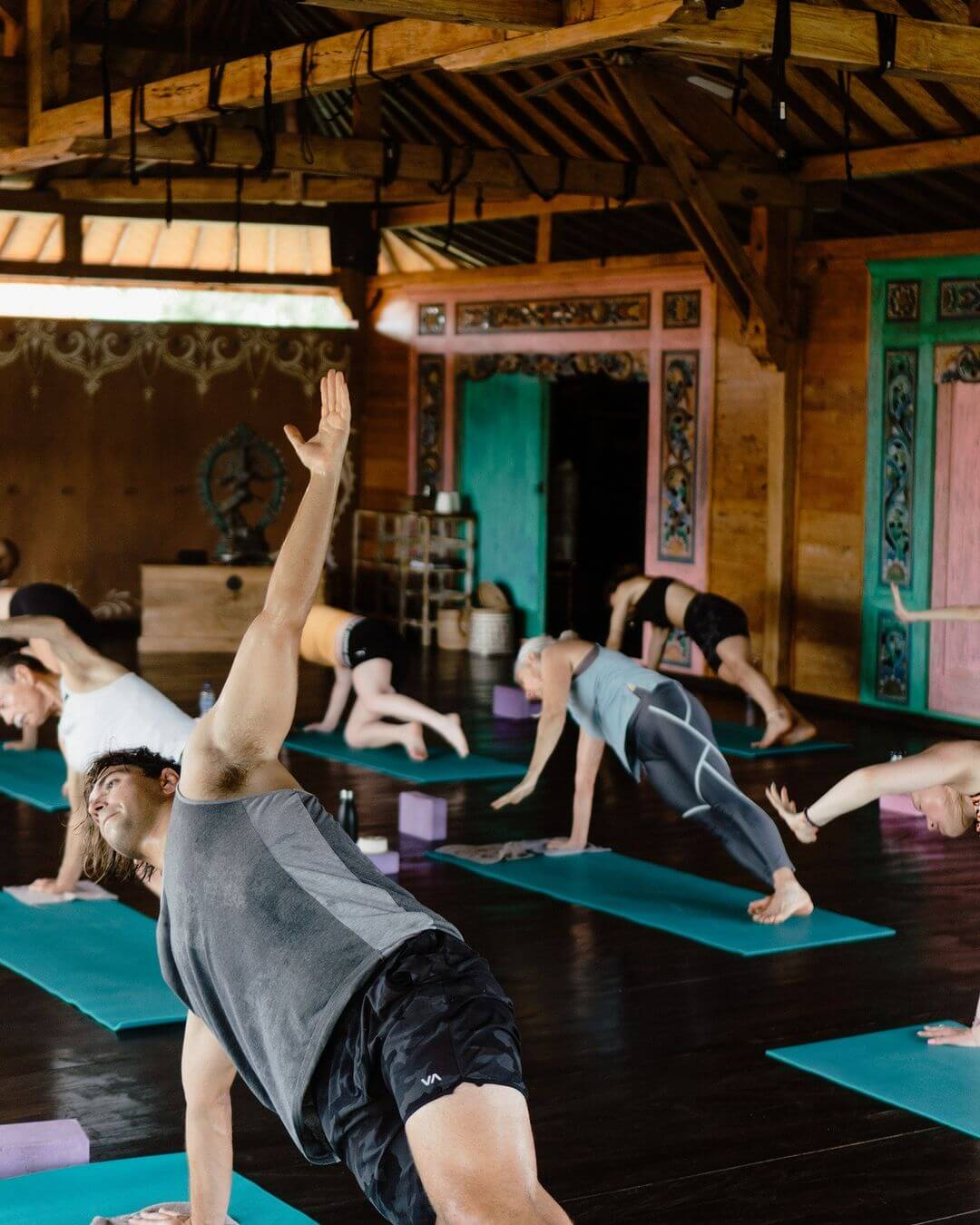 This yoga lodge is built into the cliffs of Uluwatu and has a unique yoga retreat center inside an original Javanese wood made from 100% recycled wood. Here, two yoga schools offer two different classes: They have a Big Shala that can hold classes with 50 or more people, while a Little Shala is great for smaller classes, private sessions, and small workshops. This place is also perfect for hosting your retreat in Uluwatu, Bali.
🧘Best for: Classes are available for all levels and other styles.
3. Morning Light at Uluwatu Surf Villas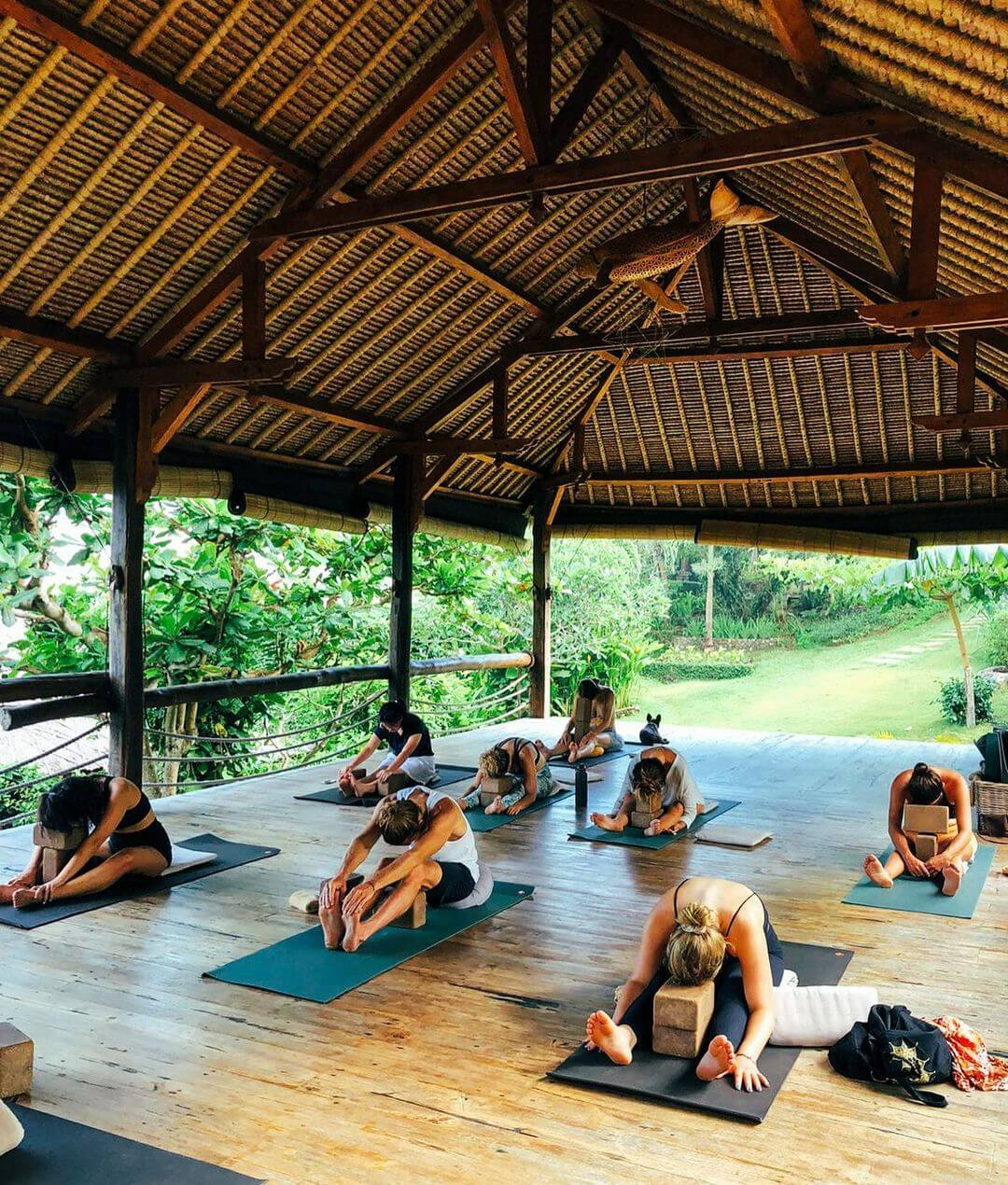 Morning Light Yoga Studio is an open-air yoga shala made from reclaimed wood that surrounds yogis with nature's sights, sounds, and smells. The twice-daily classes here are meant to help you flow and get back in balance. They are surrounded by beautiful views of the green jungle and Uluwatu's famous waves.
🧘Best for: Classes are available for all levels and other styles.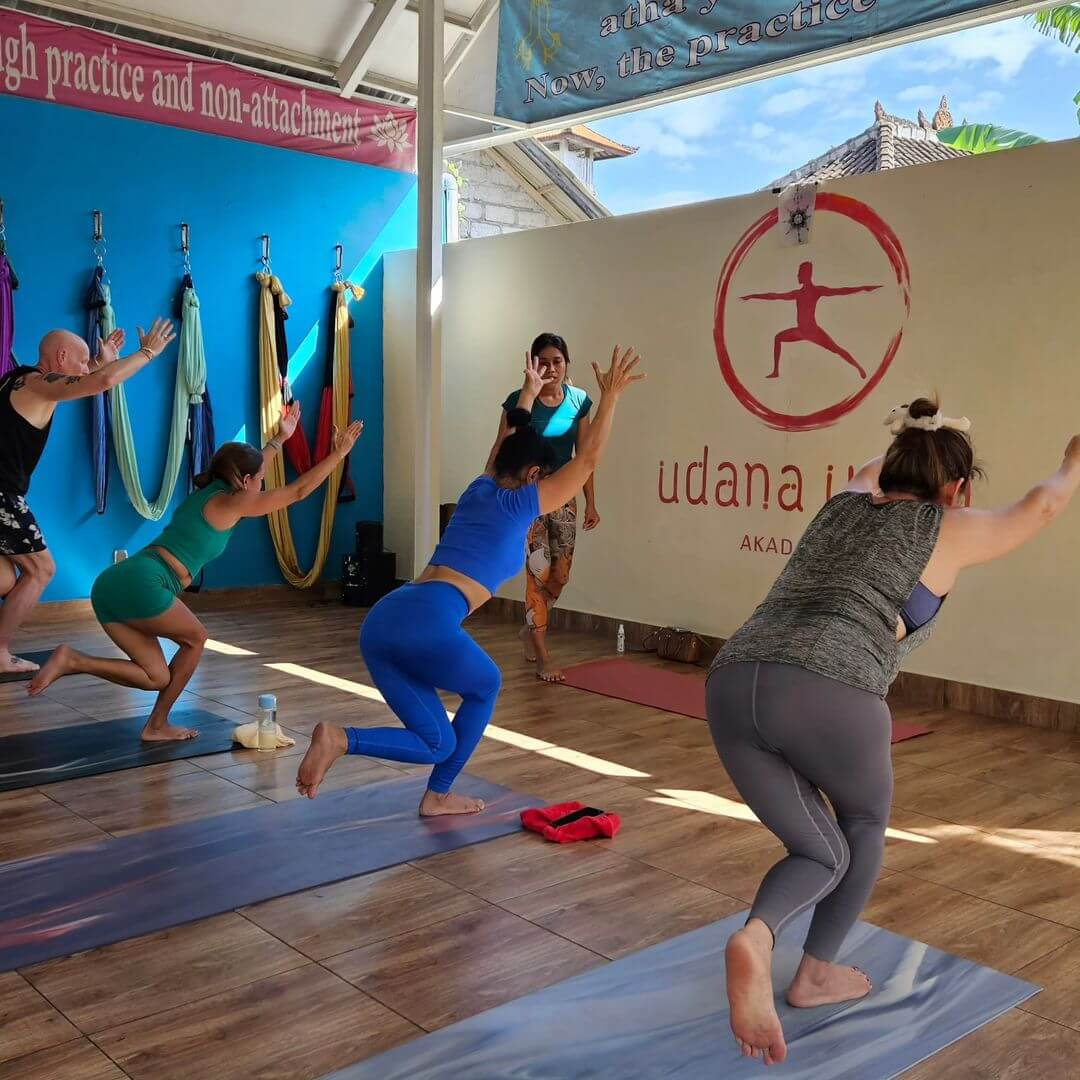 This is probably one of the most affordable places to practice yoga in Bali; from aerial to hatha yoga, the local teachers in the studio will surely guide you through every movement.
🧘Best for: Classes are available for all levels and other styles.
Price Starts from IDR 80.000 or $ 6 USD for Drop-In Class

Phone:+62 813 3815 2370

Opens at: 9 AM–7 PM

Visit their socials.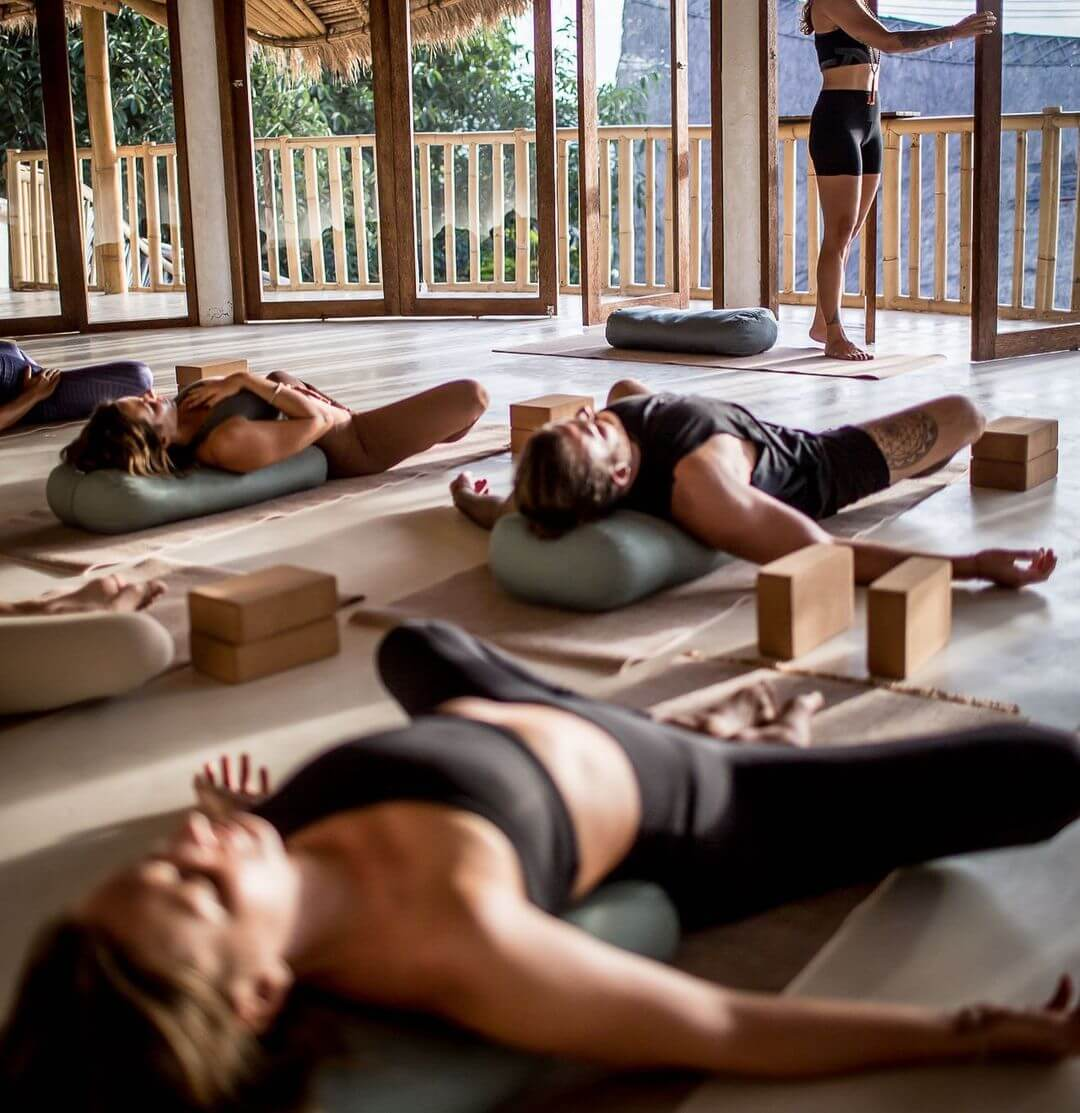 Located at the heart of Bingin, this yoga studio is becoming one of the favorites of locals and tourists. With two beautiful bamboo yoga shalas, you can flow while the sun is rising, and they offer classes from mobility to surf training. They also have a co-working space downstairs and garden with a cafe to chill after your yoga flow.
🧘Best for: Classes are available for all levels and other styles.
Price Starts from IDR 150,000K or $10 USD for Drop-In Class

Phone:+6282146185388

Opens at: 7 AM–11 PM

Visit their socials.
Uluwatu may be known to be a surfer's paradise, but any yogi should explore the yoga studios nearby to experience the beach with a mind-body-enriching. Take the opportunity to explore the Uluwatu environment and choose the ideal yoga studio for your practice. Yoga in Uluwatu is an experience not to be missed, with reasonable drop-in fees, the beautiful sound of the waves, and stunning sunset settings.
Visit their socials or studio's website and schedule for the most up-to-date class offers and timing information. Have fun with your practice of yoga in Uluwatu! Let us know what you think after your visit! And if you have Yoga studio recommendations in Uluwatu, message us, and we'll happily update our list.
Namaste, and happy exploring!